Shipping Containers For Sale in the Albany Metro Area
New and Used Shipping Containers for Sale in the Albany, New York Metro Area
As one of the largest providers of new and used shipping containers (IICL, cargo-worthy, wind & water tight, as is where is) in the Northeast, Interport regularly serves customers in Albany and the Capital District of New York. There are many practical and creative uses for shipping containers in the Albany metro area, and Interport has the local knowledge and vast inventory of shipping containers to meet the region's diverse needs.
Requesting a quote has never been easier!
Requesting a Quote Has Never Been Easier
Read on to learn more if you are based in the Albany area and looking for a container for storage, transportation, office space, or any other purpose.
Albany Metro Area Covered by Interport
Interport is proud to serve the entire Albany metro area, which is home to over 1.17 million people who have a wide variety of personal and professional needs. This includes the counties of Albany, Columbia, Fulton, Greene, Montgomery, Rensselaer, Saratoga, Schenectady, Schoharie, Warren, and Washington. Within these counties, we make a priority of providing the very best shipping containers and customer service in the 13 cities, 143 towns, and 62 villages that make up this Capital District region. We are very familiar working in the Port of Albany, a key driver of the Capital Region's economy. This historic transportation hub on the Upper Hudson River has been part of our local history for over 300 years and provides valuable connections from New York's extensive canal system to rail lines delivering cargo and local roadways that connect to major interstates. With Interport's help and by way of these routes, including I-87, I-88, and I-90, Albany-area businesses have access to broader industrial markets in the Tri-State Area, Mid-Atlantic Region, Great Lakes Region, New England, Canada, and beyond. Interport is proud to serve the following Albany area zip codes and many more: 12202, 12203, 12204, 12205, 12206, 12207, 12208, 12209, 12210, 12211, 12222, 12180, 12065, 12866, 12020, 12303, 12309, 12302, 12144, 12047, 12054, 12189, 12831, 12188, 12159, 12198, 12033, 12803, 12018, 12307, 12043, 12822, 12123, 12170.
Popular Shipping Container Uses in the Albany Metro Area
The Albany metro area is a major tech hub on the East Coast and a nationwide leader in technology products and services. Therefore, we work with many tech companies to provide temporary and permanent office space and climate-controlled storage. As home to the state government, local municipal organizations often require shipping containers to use as gatehouses, field offices, storage units, and meeting spaces at job sites. The Albany area is also one of the top arts and cultural destinations in New York, which means that we are experienced in providing local organizations with shipping containers that serve as gallery exhibits, container kiosks, and studio space. Albany customers from various industries also contact Interport for containers to serve as portable restrooms, tool sheds, and for moving cargo to worksites.
See What Some Of Our Customers Are Saying
"Love the containers, very easy to deal with and great to work with. No hassles. I can call up and say, 'I need this,' and I get what I want." – Cheryl, National Portable Storage
"I know Interport is watching my back and giving me a good quality for the price. They know what equipment they're giving me, and our businesses are a perfect match." – Ben, Regional Container Reseller
Albany Metro Shipping Container Sizing Options
To accommodate the different kinds of projects and needs that Albany area companies have, Interport offers a wide selection of shipping containers. Our 10-foot containers are a popular alternative to sheds for storing small equipment, while our 20-foot containers are ideal for high-density product storage and shipping. This size of container comes in different models, such as double-door, refrigerated, insulated, open-top, and collapsible-end flatrack designs. For high-capacity jobs, Albany customers choose our 40-foot containers for their excess inventory, machinery, and raw material storage. When companies in the Capital Region need to ship materials that require increased cubic capacity, our high-cube container are great solutions, measuring nine feet and six inches tall. To choose an optimally sized container for your needs, take some measurements and visit our shipping container dimensions page to learn about gross capacity, payload, and tare weight amounts.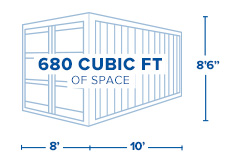 Gross capacity: 22,400 lbs.
Payload: 19,530 lbs.
Tare weight: 2,870 lbs.
---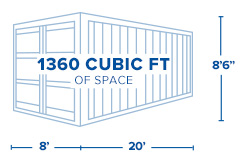 Gross capacity: 66,139 lbs.
Payload: 66,139 lbs.
Tare weight: 4,850 lbs.
---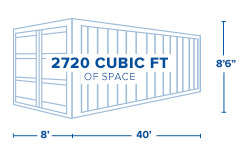 Gross capacity: 66,139 lbs.
Payload: 66,139 lbs.
Tare weight: 4,850 lbs.
Since 1969, we have been selling new and used steel shipping containers in New York and New Jersey and are confident that we can solve any storage, freight, or cargo need that you may have.
Shipping Container Average Pricing for the Albany Metro Area
Because of our large inventory and proximity to the Port of New York and New Jersey, Interport saves you time and money because you're buying straight from the source. As you might expect, shipping container prices vary based on the size of container you need and whether you require custom modifications. However, we offer competitive pricing for all of our new and used shipping containers and will give you the best deal for your budget. We have a knowledgeable and friendly sales team standing by ready to help you choose the right container for your needs. Get a fast and free quote on our website, or give us a call at 973-589-2329 for assistance.
Albany Metro Shipping Container Modifications
Interport stands out from other shipping container providers for many reasons, including our ability to modify containers to meet your specific needs in our dedicated 12,000-square-foot modification shop. We give you the opportunity to outfit your shipping container with high-quality enhancements, including lighting, HVAC, paint, windows, and doors.
Requesting a Quote Has Never Been Easier
Browse all our custom containers such as our SchoolBox™, perfect for a safe and secure on-site storage solution for school grounds.
Browse Custom Modification Soultions
Going beyond the standard shipping container applications, we have the ability to transform your shipping container with HVAC, interior partitions, shelves, insulation, and security features. The sky's the limit with how creative you can be with your shipping container in Albany because we can easily and professionally turn these versatile structures into portable restrooms, command centers, livestock shelters, and much more.
Shipping Container Delivery Options in the Albany Metro Area
While some Albany-based customers choose to pick up their shipping containers from Interport's headquarters in Newark, many others choose to take advantage of our convenient delivery service. We work with trusted local trucking companies to ensure that your shipping container is delivered to your specified location on time and in the exact condition you require. Whether you are located in Albany, Schenectady, Colonie, Troy, Clifton Park, or another part of the Albany metro area, we can provide reliable and affordable delivery to your site so that you can start using your container quicker and more efficiently. When you request a quote from Interport, please provide us with your delivery information to get the most accurate price estimate. Start our simple quote process here:
Requesting a Quote Has Never Been Easier
Since 1969, Interport has been providing steel shipping containers to our loyal customers to solve virtually every storage, cargo, and freight need. Contact us to learn more about why Interport is the shipping container company of choice in the Albany region and to get your free, no-obligation quote.