Interport's Shipping Containers for Sale in the Washington, DC-Baltimore-Arlington Region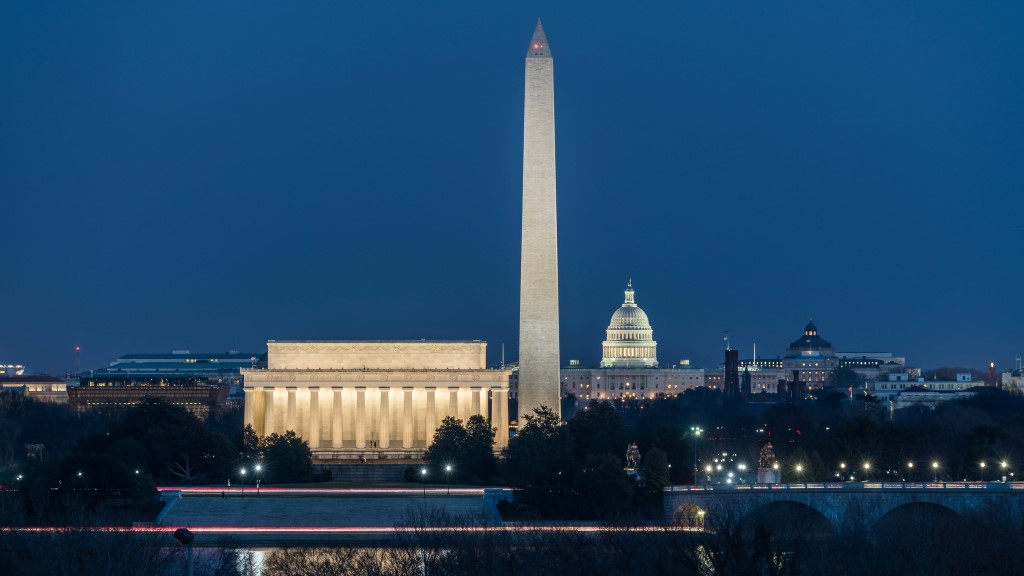 Interport Serves the Washington DC Metro Area
Washington, DC is our nation's center for political activity and the headquarters for many corporations, nonprofit organizations, lobbying groups, and campaign efforts. These various industries require shipping containers for storage, office space, and many other purposes. Interport serves the Washington, DC metro area with new and used shipping containers that are available in both standard and custom sizes to meet the industry's demand.
Requesting a quote has never been easier!
Requesting a Quote Has Never Been Easier
Washington-Baltimore-Arlington Region Served by Interport
From our headquarters located at the Port of New York and New Jersey, Interport is ideally positioned to serve communities in and around Boston and Manchester. Boston is home to one of the busiest ports in the Northeast, the Port of Boston. Interport's proximity makes it a prime location to support our customers who use the port for their shipping needs with our cargo worthy containers. We have a deep appreciation for this port, which has been integral to Boston's growth throughout history due to its role in cargo handling and immigration. Likewise, our contacts in the trucking and transport industry find Interport to be the best option for their container needs due to our central location to major regional thoroughfares like I-90, I-95, and I-93.
Interport serves the greater Washington, DC metro area, a region that spans about 1,407 square miles of urban area and 5,564 square miles of metro area. This region has a population of over six million people — many of whom can benefit from the shipping container services we provide.
In addition to the city of Washington, DC., Interport also serves other communities in the extended regional area, including Arlington, VA; Alexandria, VA; Baltimore, MD; Annapolis, MD; Bethesda, MD; Chambersburg, PA; Columbia, MD; Easton, MD; Fairfax, VA; Falls Church, VA; Fredericksburg, MD; Gaithersburg, MD; Hagerstown, MD; Lexington Park, MD; Martinsburg, WV; Rockville, MD; Reston, VA; Silver Spring, MD; Towson, MD; Tysons, VA; Waynesboro, PA; and Winchester, VA.
Interport services the following ZIP codes in the Washington, DC metro area: 20001, 20002, 20003, 20004, 20005, 20006, 20005, 20006, 20007, 20008, 20009, 20010, 20011, 20012, 20015, 20016, 20017, 20018, 20019, 20020, 20024, 20032, 20036, 20037, 20045, 20052, 20053, 20057, 20064, 20202, 20204, 20228, 20230, 20240, 20245, 20260, 20307, 20317, 20319, 20373, 20390, 20405, 20418, 20427, 20506, 20510, 20520, 20535, 20540, 20551, 20553, 20560, 20565, 20566, and 20593.
Popular Shipping Container Uses Around Washington, DC & Baltimore
Shipping containers are used for many different purposes in the DC metro area beyond shipping goods from one location to another. We commonly serve many industries local to the region, including government/municipalities, consumer services (retail/hospitality), construction, transportation and utilities, and real estate.
For example, local schools and universities in and around DC use shipping containers for convenient storage solutions. Additionally, our containers make for great portable restrooms for the local parks in the community, while local nonprofits use them to offer valuable services to their communities. Portable offices for construction sites, temporary corporate offices, and art gallery spaces are a few of the other uses for shipping containers in Washington, DC.
See What Some Of Our Customers Are Saying
"Love the containers, very easy to deal with and great to work with. No hassles. I can call up and say, 'I need this,' and I get what I want." – Cheryl, National Portable Storage
"I know Interport is watching my back and giving me a good quality for the price. They know what equipment they're giving me, and our businesses are a perfect match." – Ben, Regional Container Reseller
Washington, DC Metro Shipping Container Sizes
For our Washington, DC customers, we offer various sizes of containers for sale, including 10-foot, 20-foot, 40-foot, and high-cube containers. Our 10-foot shipping containers provide 680 cubic feet of space, while our 20-foot containers provide 1,169 cubic feet of space, 40-foot containers 2,385 cubic feet of space, and 40-foot high-cube containers 2,660 cubic feet of space.
Our smaller-size containers are ideal for personal storage space, while our larger ones are better-suited for offices and residential living. DC-area customers often use our standard (dry) containers, but we offer refrigerated and insulated containers for special cargo that you may need to store or ship.
Our double-door containers are popular with DC customers because they provide easy access at both the front and back of the unit. With the addition of a partition, we can even modify these double-door shipping containers to create separate spaces for storage, container offices, and retail kiosks.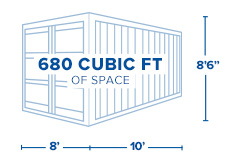 Gross capacity: 22,400 lbs.
Payload: 19,530 lbs.
Tare weight: 2,870 lbs.
---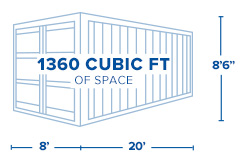 Gross capacity: 66,139 lbs.
Payload: 66,139 lbs.
Tare weight: 4,850 lbs.
---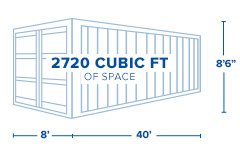 Gross capacity: 66,139 lbs.
Payload: 66,139 lbs.
Tare weight: 4,850 lbs.
Washington, DC Metro Shipping Container Modifications
We can customize your shipping container and enhance it to your specifications in our on-site modification shop. We are committed to providing our DC customers with exactly what they need, which is why we regularly add paint, windows, doors, HVAC, and lighting to the shipping containers we sell in the metro region.
High-quality custom modifications are one of the many things that set Interport apart from the competition in the DC metro area. For example, the Interport SchoolBox™ is a cost-effective and long-term storage solution for school grounds. Meanwhile, our mobile office containers are so accommodating that many customers continue to use them as permanent office space solutions. To keep your materials and personnel safe and secure inside, we also offer lock boxes, door bars, panic bars, window bars, and security screens.
Requesting a Quote Has Never Been Easier
Shipping Container Average Prices for the Washington, DC Metro Area
In addition to Interport's large inventory of shipping containers and outstanding customer service, we also offer our Washington, DC customers great prices and direct access to the global container market. Regardless of what size container you require, Interport provides fast and free quotes for your purchase or modification.
When you request a quote, we encourage you to give additional details that we should know about your project so we may better serve your needs. If you are looking for a shipping container strictly for storage and do not need significant modifications, you may be able to save on container costs by choosing one of our used containers.
Shipping Container Delivery Options in the Washington, DC Area
With Interport, we offer you the option to either pick up your container at our headquarters or we can arrange for delivery. We work with top trucking companies to deliver shipping containers to your DC location. It's quick, easy, and efficient so you don't have to make a special trip to pick up a container with an oversized vehicle.
Washington, DC is served by the small port in Alexandria and the much larger port in Baltimore. We are familiar with these ports and the local trucking and transportation industries that serve the capital city. We can arrange delivery with experienced drivers who regularly navigate the Capital Beltway, Baltimore-Washington Parkway, I-95.
Since 1969, we have been selling new and used steel shipping containers in New York and New Jersey and are confident that we can solve any storage, freight, or cargo need that you may have.
Start our simple quote process here:
Requesting a Quote Has Never Been Easier
If you live or work in the DC metro area and could use a shipping container for any purpose, please contact Interport for more information and let's help you get started.