Shipping Containers for Sale in the Philadelphia-Camden-Wilmington Metro Area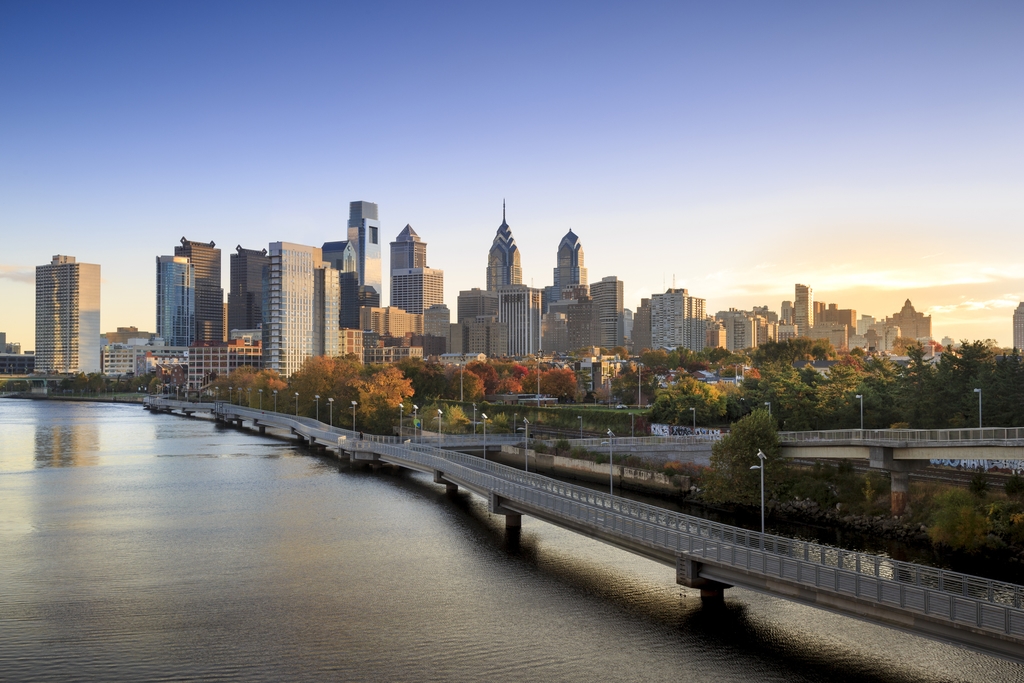 Interport Serves the Philadelphia Metro Area
Over six million people and many diverse businesses call the Philadelphia metro area their home. The businesses in this region have a high demand for shipping containers. Interport offers a wide range of high-quality new and used shipping containers, meeting the demand.
Our excellent customer service and expert sales team make us the stand-out company in this industry. We can help you find the right solution for your personal or professional container needs.
Requesting a quote has never been easier!
Requesting a Quote Has Never Been Easier
Or, learn more about how we service Philadelphia and the surrounding metro area, including parts of New Jersey, Pennsylvania, and Delaware.
The Philadelphia-Camden-Wilmington Metro Area
This region is home to the Port of Philadelphia, which is used for shipping along the Delaware River. Philadelphia's historic port dates back to colonial days over 300 years ago. Additionally, the local marine terminals feature each of their special capabilities, including the Packer Avenue Marine Terminal, Pier 84, and the Philadelphia Forest Products Center. Access to this region makes us  an East Coast leader for durable units in standard and custom-sized containers for shipping, storage, or other purposes.
The Philly Metro Area
Interport works in and delivers shipping containers to all five counties of the Philadelphia area: Bucks, Chester, Delaware, Montgomery, and Philadelphia. In addition to the city of Philadelphia, we also service the communities of Reading, PA; Upper Darby Township, PA; Camden, NJ; Wilmington, DE; Cherry Hill, NJ; Gloucester Township, NJ; Vineland, NJ; Bensalem Township, PA; Lower Merion Township, PA; Abington Township, PA; Bristol Township, PA; Haverford Township, PA; Washington Township, NJ; Evesham Township, NJ; Middletown Township, PA; Egg Harbor Township, NJ; Mount Laurel, NJ; Northampton Township, PA; and Winslow Township, NJ.
The Philadelphia metropolitan area covers approximately 4,629 square miles. We have the local knowledge and experience to cover each of these miles to serve our loyal customers in the historic districts, urban centers, suburbs, and everywhere in between. The Philadelphia area zip codes that we service include the following: 19102, 19103, 19104, 19106, 19107, 19109, 19111, 19112, 19114, 19115, 19116, 19118, 19119, 19120, 19121, 19122, 19123, 19124, 19125, 19126, 19127, 19128, 19129, 19130, 19131, 19132, 19133, 19134, 19135, 19136, 19137, 19138, 19139, 19140, 19141, 19142, 19143, 19144, 19145, 19146, 19147, 19148, 19149, 19150, 19151, 19152, 19153, and 19154.
Shipping Container Average Pricing for the Philadelphia Metro Area
Philadelphia customers get the best value for their money from Interport's competitive prices. Our large inventory of containers, unmatched customer service, and resonable prices means you won't find a better price on a better container anywhere in the Philadelphia metro area.
It's easy to request a personalized quote from Interport. Simply select your desired container size or modification and provide us your contact and delivery information.
---
See What Some Of Our Customers Are Saying
"Love the containers, very easy to deal with and great to work with. No hassles. I can call up and say, 'I need this,' and I get what I want."
– Cheryl, National Portable Storage
"I know Interport is watching my back and giving me a good quality for the price. They know what equipment they're giving me, and our businesses are a perfect match."
– Ben, Regional Container Reseller
---
Popular Shipping Container Uses in the Philadelphia Metro Area
Our sales team will help you find the perfect shipping container for your needs. For example, local schools, teams, or contractors may use these containers to store construction supplies, athletic equipment, and educational records. No matter the need, we will work with different budgets and specifications.
Many industries in the Philadelphia area, such as government agencies and disaster relief organizations, need help with their storage or shipping options. Interport provides storage solutions and office spaces for these industries. Likewise, Philadelphia-based banks, medical clinics, and retail stores may need temporary or permanent operational spaces. Interport's steel containers are perfect for these businesses.
Philadelphia Metro Shipping Container Sizing Options
If you need a little extra storage space at a budget-friendly rate in Philadelphia, consider Interport's 10-foot standard dry containers. They are weatherproof, watertight, and made of corrosion-resistant materials. Philadelphia businesses that need easy access to their goods and materials often choose our double-door containers in 20-foot, 40-foot, or 40-foot high cube sizes. If you need to store special cargo, our insulated and refrigerated containers come in these same three sizes.
Choose from our selection of open-top containers if you're a local Philadelphia business with items that are too tall to fit in a standard ISO container. Meanwhile, our flat rack shipping containers are ideal for heavy machinery and large industrial parts.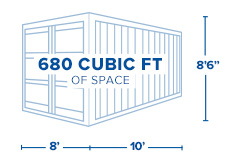 Gross capacity: 22,400 lbs.
Payload: 19,530 lbs.
Tare weight: 2,870 lbs.
---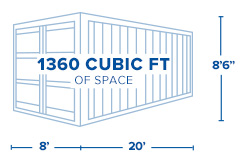 Gross capacity: 66,139 lbs.
Payload: 66,139 lbs.
Tare weight: 4,850 lbs.
---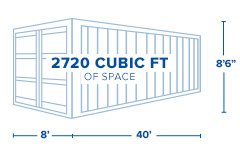 Gross capacity: 66,139 lbs.
Payload: 66,139 lbs.
Tare weight: 4,850 lbs.
Philadelphia Metro Shipping Container Modifications
We are also pleased to offer various shipping container modification options to our Philadelphia area customers. These modifications include converting containers to mobile offices, adding paint, and HVAC. Our mobile office containers make excellent low-maintenance office space solutions. The Interport SchoolBox™ is a cost-effective and long-term storage solution for school grounds and allows educators safe and easy access to contents stored inside.
Requesting a Quote Has Never Been Easier
Our dedicated, purpose-built, on-site modification shop gives you the ability to create custom modifications upon request to fully customize your purchase. Contact us to add roll-up doors, personnel doors, windows, electricity, paint, and HVAC to your container before we deliver it to Philadelphia.
Shipping Container Delivery Options in the Philadelphia Area
Interport can arrange for trucking to the Philadelphia metro area to make the container-buying process easy and convenient. We are one of the Northeast's leaders in shipping containers, and will arrange to deliver your ideal container to your chosen location by flatbed, tilt-bed, low-bed trailer, or chassis.
There are a few, simple steps you should take before your delivery date. First, make sure to prepare the ground for delivery by having a firm, dry, and level surface. Hard dirt, gravel, or pavement make it easier for the container to sit. If you would like your container delivered to the Philadelphia metro area via flatbed trailer, you will need a forklift or crane on-site at the delivery time so the container can be lifted off of the truck.
Start our simple quote process here:
Requesting a Quote Has Never Been Easier
If you live or work in the Philadelphia metro area and are looking for a shipping container, Interport is the regional name to know. Save time and money by buying straight from the source and getting access to our huge inventory of new and used units available for purchase or modification.
Request a quote or call us today at 973-589-2329 for a fast and free quote.