Shipping Containers for Sale in the New York City Metro Area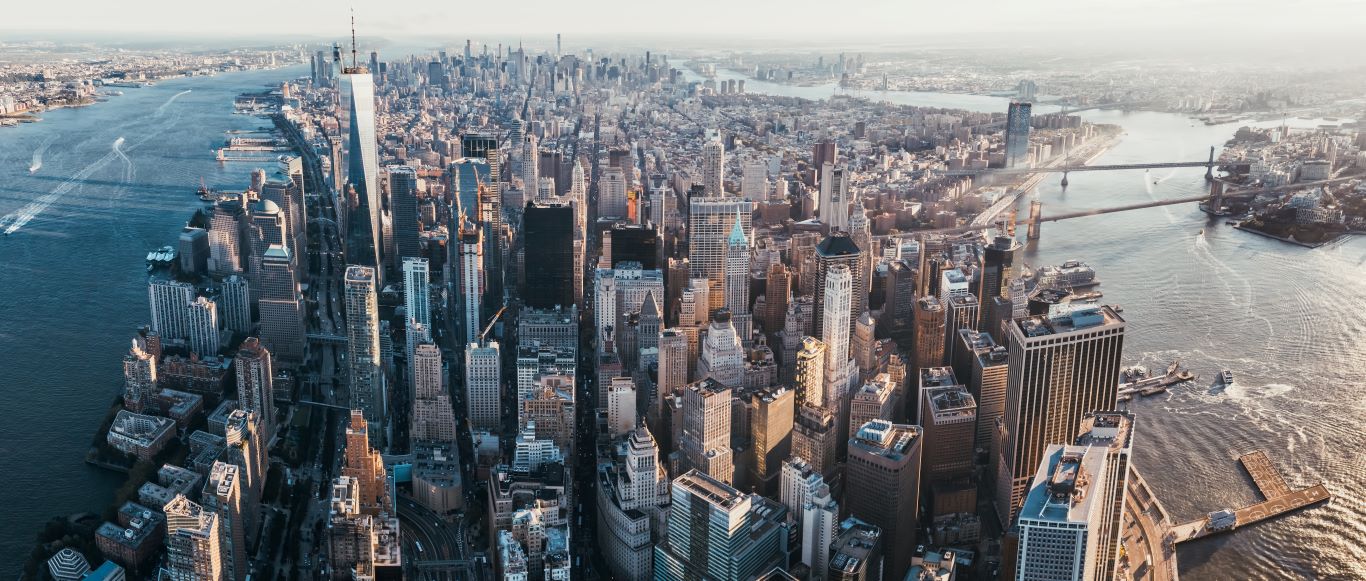 Interport Serves the NYC Metro Area
Based in Newark, New Jersey, Interport serves many communities throughout the New York City metro area. We are proud to serve our home region and provide an extensive inventory of steel shipping containers in various sizes and specialty types for different purposes. In this industry, Interport stands out because we're committed to customer satisfaction. We have one of the largest selections of new and used containers in the Northeast, and our proximity to the port eliminates the middleman so we can pass the savings on to our customers.
Requesting a quote has never been easier!
Requesting a Quote Has Never Been Easier
Choose a container size
Request a quote
Arrange for delivery
Or, learn more about how we service New York City and the surrounding metro area, including parts of Northern Jersey, the New York Hudson Valley, and Pennsylvania.
Interport Covers the New York City Metro Area
Our 50-acre facility is adjacent to the Port of New York and New Jersey, which is one of the busiest ports in the world. The proclaimed largest port on the East Coast is also the gateway to some of the most important consumer markets in North America. This historic port holds an important place in local history because of the role it has played in immigration, military supplies during the World Wars, and as the nation's first container shipping facility. The Port of New York and New Jersey continues to adapt and transform for the modern age of shipping and transportation, and we are proud to be a part of its history. Interport's New York City metro area coverage extends throughout the five boroughs, New Jersey, and the surrounding region. It's the most populous metropolitan area in the U.S. with over 20 million people. Excellent customer service and delivery serve our local neighbors in Manhattan, Brooklyn, Queens, the Bronx, Long Island, the Mid- and Lower Hudson Valley, North and Central New Jersey, and even Western Connecticut and Northeast Pennsylvania.
The NYC Metro Area
We cover the following key cities, plus many more in the region: New York City, NY; Hempstead, NY; Brookhaven, NY; Islip, NY; Oyster Bay, NY; Newark, NJ; Jersey City, NJ; North Hempstead, NY; Babylon, NY; Huntington, NY; Yonkers, NY; Paterson, NJ; Bridgeport, CT; New Haven, CT; Elizabeth, NJ; Ramapo, NY; Stamford, CT; Allentown, PA; Smithtown, NY; Waterbury, CT; Edison, NJ; Woodbridge Township, NJ; Norwalk, CT; Trenton, NJ; Danbury, CT; New Rochelle, NY; Bethlehem, PA; Passaic, NJ; Mount Vernon, NY; White Plains, NY; Union, NJ; Wayne, NJ; Stratford, CT; Milford, CT; Torrington, CT; Ewing, NJ; Poughkeepsie, NY; Newburgh, NY; Middletown, NY; Easton, PA; and Kingston, NY. Zip codes served by Interport in the New York City metro area include zip codes that start with the following numbers: 100**, 101**, 102**, 103**, 104**, 105**, 106**, 107**, 108**, 109**, 110**,  111**, 112**, 113**, 114**, 115**, 116**, 117**, 118**, 119**, 124**,  125**, 126**, and 127**.
Shipping Container Average Pricing for the New York City Metro Area
Shipping container costs vary based on the type of container you need, its size, and any modifications needed. We offer our customers the option to either pick up your container from our Newark facility or have it delivered directly to you. Total price may fluctuate depending on the distance of the delivery location, as pricing is calculated by zip code. Visit our request a quote page to provide your delivery information and get a quote for the cost of delivery for your container.
See What Some Of Our Customers Are Saying
"Love the containers, very easy to deal with and great to work with. No hassles. I can call up and say, 'I need this,' and I get what I want."
– Cheryl, National Portable Storage
"I know Interport is watching my back and giving me a good quality for the price. They know what equipment they're giving me, and our businesses are a perfect match."
– Ben, Regional Container Reseller
Popular Shipping Container Uses in the New York City Metro Area
Our customers in the New York metro area consistently turn to Interport for their shipping container needs. For example, New Yorkers have frequently used shipping containers for commercial purposes and as additions to residential projects (i.e., field offices, self-storage). Throughout New York and New Jersey, we provide shipping containers to local artists and art organizations so that they can display gallery works, giving creative spaces for new innovations. New York metro area has limited real estate and square footage and people often need extra storage space for supplies and materials. Interport has the solutions for storage container needs. Other popular options for storage container needs in the region include industrial purposes, warehousing, and portable offices for construction sites and other companies.
New York Metro Shipping Container Sizing Options
Interport offers many sizing options for shipping containers to suit your intended purpose. Our standard dry containers are popular in this region because of their versatility in 10-foot, 20-foot, 40-foot, and high-cube sizes. Meanwhile, our double-door, insulated, and refrigerated containers come in 20-foot-40-foot, and 40-foot-high cube sizes. Finally, our open-top and flat-rack containers are available in the New York metro area in 20-foot and 40-foot sizes.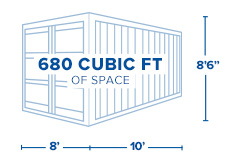 Gross capacity: 22,400 lbs.
Payload: 19,530 lbs.
Tare weight: 2,870 lbs.
---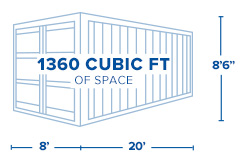 Gross capacity: 66,139 lbs.
Payload: 66,139 lbs.
Tare weight: 4,850 lbs.
---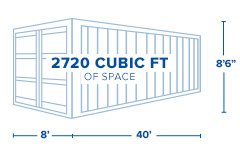 Gross capacity: 66,139 lbs.
Payload: 66,139 lbs.
Tare weight: 4,850 lbs.
Since 1969, we have been selling new and used steel shipping containers in New York and New Jersey and are confident that we can solve any storage, freight, or cargo need that you may have.
New York Metro Shipping Container Modifications
At Interport, we understand that a one-size-fits-all shipping container is not always the best option for our local customers in New York City and the surrounding areas. Our popular shipping container modifications allow you to find a shipping container to fit your need, or inquire about custom modifications to uniquely tailor your order.
New York metro area customers often contact us with modification requests, such as painting and adding doors and windows to our containers. These added features are useful for shipping containers that are intended for self-storage, remote working, and art gallery space. We can even add electrical modifications for lighting, heating, and ventilation to keep people comfortable inside or interior finishing to impress your clients and guests.
Shipping Container Delivery Options in the New York City Area
Interport is the standard-bearer in reliable and convenient delivery service for your shipping container needs in the New York City metro area. If your business is located nearby, we can arrange for delivery with one of our professional trucking companies who know how to best transport and set up containers on your property to prevent damage to your property or the container, adding even greater to value to our service. Start our simple quote process here:
Requesting a Quote Has Never Been Easier
Choose a container size
Request a quote
Arrange for delivery
We look forward to serving you in the New York City metro area and guiding you through the array of shipping containers we have available for immediate sale.