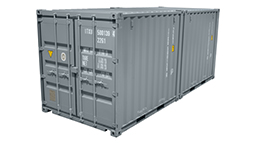 2X10FT. DUOCON CONTAINER
Interport's DuoCon shipping containers offer the storage capacity of a 20-foot container, the ease of access of a double-door unit, and the flexibility of two separate spaces. Our 2×10 DuoCon containers are two 10-foot shipping containers welded back-to-back to fit the form of a standard 20-foot shipping container. DuoCon shipping containers are easy to load and handle and can be more cost effective to ship than two 10-foot containers.
Interport offers the Northeast's largest selection of new DuoCon shipping containers, available for immediate sale and next-business-day delivery.