Shipping Containers for Sale in the Hartford & East Hartford, Connecticut Metro Areas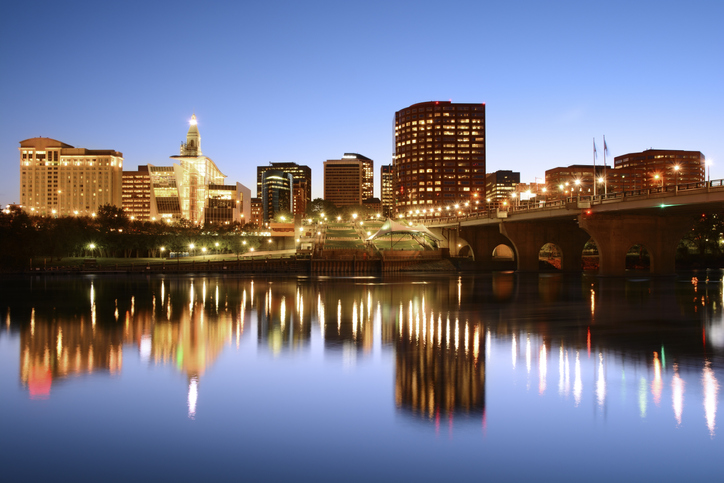 Interport Serves the Greater Hartford, CT Area
Comprised of more than 50 towns in Hartford, Tolland, and Middlesex counties, the Greater Hartford is a priority service area for Interport. We provide new and used cargo worthy shipping containers for sale to meet the various needs of our local Connecticut customers. We are proud to carry one of the largest inventories of standard and custom size shipping containers in the Tri-State Area and broader Northeast region that Hartford-area businesses need.
Requesting a quote has never been easier!
Requesting a Quote Has Never Been Easier
Hartford & East Hartford Area Serviced by Interport
Dating back more than three centuries, Connecticut has a long history in the maritime industry and has historically relied on its port to drive the state's economy. Our team is familiar with Connecticut's deep-water ports, small harbors, interstate highways, and rail lines—all essential components of providing maritime access and distribution networks to make transportation more efficient and local businesses more successful. The Hartford and East Hartford areas are close to our headquarters at the Port of New York and New Jersey and are well-positioned to utilize our extensive shipping container inventory. In the Hartford and East Hartford areas, we serve a population of over a million people in large municipalities and small towns alike. Our service area includes the communities of Hartford, East Hartford, West Hartford, Bristol, Manchester, and New Britain. In addition to these larger cities, we also serve mid-size towns like Avon and Southington, as well as small towns like Bolton and Columbia.
The Greater Hartford Area
ZIP codes served by Interport in the Hartford region include the following and more: 01036, 01077, 01106, 06001, 06002, 06010, 06013, 06016, 06019, 06020, 06022, 06023, 06026, 06027, 06029, 06032, 06033, 06035, 06037, 06040, 06042, 06043, 06051, 06052, 06053, 06060, 06062, 06065, 06066, 06067, 06070, 06071, 06073, 06074, 06076, 06078, 06081, 06082, 06084, 06085, 06088, 06089, 06090, 06091, 06092, 06093, 06095, 06096, 06103, 06105, 06106, 06107, 06108, 06109, 06110, 06111, 06112, 06114, 06117, 06118, 06119, 06120, 06160, 06226, 06231, 06232, 06237, 06238, 06242, 06248, 06250, 06268, 06269, 06279, 06409, 06412, 06413, 06414, 06415, 06416, 06417, 06419, 06420, 06422, 06423, 06424, 06426, 06438, 06441, 06442, 06444, 06447, 06451, 06455, 06456, 06457, 06467, 06469, 06475, 06479, 06480, 06481, 06489, 06498.
See What Some Of Our Customers Are Saying
"Love the containers, very easy to deal with and great to work with. No hassles. I can call up and say, 'I need this,' and I get what I want."
– Cheryl, National Portable Storage
"I know Interport is watching my back and giving me a good quality for the price. They know what equipment they're giving me, and our businesses are a perfect match."
– Ben, Regional Container Reseller
---
Shipping Container Modifications in Hartford & East Hartford
Interport's expert ability to custom-modify your Hartford shipping container is one of the many things that sets our company apart from the competition. Depending on your project needs, we can add doors and windows to your shipping container to give it ventilation and natural light. We can also paint your Hartford container any color you choose and add electrical and lighting features inside. Businesses trust Interport to equip their shipping containers with lock boxes, security screens, and other features to ensure that contents remain safe and protected inside.
Requesting a Quote Has Never Been Easier
Shipping Container Pricing for the Hartford & East Hartford Metro Areas
Because we provide high-quality container solutions straight from the source, we offer the most competitive prices in the industry for our Hartford and East Hartford customers. Our proximity to the port saves you time and money so you can focus on your business. To estimate your specific pricing costs, request a container quote on our website and tell us more about your container needs. If you aren't sure what type of container is best for your business and could use a little guidance, call us at 973-589-2329.
Hartford & East Hartford Shipping Container Sizing Options
Interport offers a wide range of shipping container sizes to meet the needs of the varied industries that thrive in the Hartford region of Connecticut. Our standard shipping containers are 8-ft wide by 8.5-ft high, with the common lengths of 20-ft and 40-ft long. The storage containers we offer for pickup and delivery to our Hartford-area customers can hold approximately 62,788 lbs. for a standard 20-ft container or 59,547 lbs. for a 40-ft shipping container. One of the most common sizes of shipping containers that we provide in Hartford and East Hartford are our 10-foot steel shipping containers for urban work sites and storage sheds. These shipping containers have about half the storage capacity of a one-car garage. Our 40-ft shipping containers are also popular among local Connecticut businesses to ship machinery and raw materials, as well as provide spacious offices for personnel. We also provide an extensive inventory of containers for sale such as standard dry vans, double-door, refrigerated units, open-top, flat rack, and insulated shipping containers.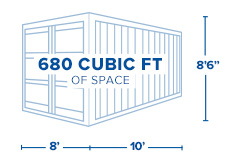 Gross capacity: 22,400 lbs.
Payload: 19,530 lbs.
Tare weight: 2,870 lbs.
---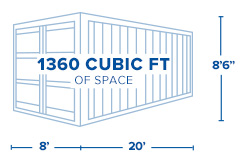 Gross capacity: 66,139 lbs.
Payload: 66,139 lbs.
Tare weight: 4,850 lbs.
---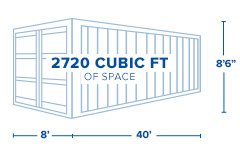 Gross capacity: 66,139 lbs.
Payload: 66,139 lbs.
Tare weight: 4,850 lbs.
Shipping Container Delivery Options in Hartford & East Hartford
With Hartford being only a couple hours from our headquarters in Newark, New Jersey, some customers choose to pick up their shipping containers from us directly. However, we also offer convenient delivery service to remove the hassle and bring your container right to where you need it. Start our simple quote process here:
Requesting a Quote Has Never Been Easier
We look forward to serving our customers in the Hartford/East Hartford metro area and encourage you to reach out to our knowledgeable and friendly customer service team at 973-589-2329 with any questions.